Analyze algorithms, review fundamental data structures, and understand typical applications that computer science utilizes in the development and creation of programs. Whether you are looking to prepare for the AP Computer Science A exam or the AP Computer Science Principles exam or want to improve your recreational coding skills, we have expert tutors that can help address any of the questions you might have.
24/7 Expert Access
When you can't seem to read Java or C++, or comprehend how to set up the system you are being asked to program, know that you can come to us to help you understand and complete your homework. Even if it's midnight before an exam, we're available to help you out 24/7, no notice or appointments required. Whenever you are studying, computer science homework help is just a click away.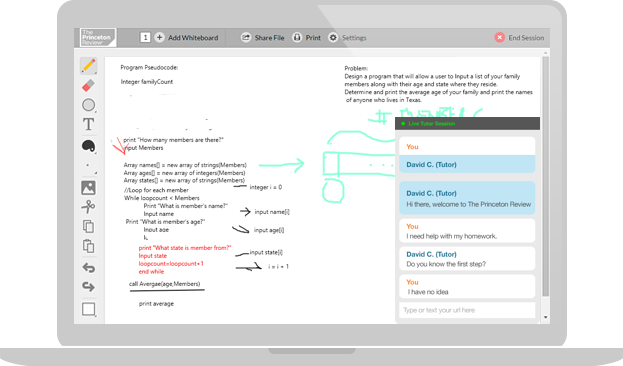 The Online Classroom
Ask us a question that you're stuck on and we'll connect you with a tutor that knows how to solve your problem. Meet up with a tutor in the online classroom and be able to go over your problem in real time through our interactive whiteboard. Here, you'll be able to file-share, document download and sidebar message to get the most out of your personalized tutoring session.
All Things Computer Science
With The Princeton Review's Computer Science homework help our tutors will help you better understand topics like:
Object oriented development
Recursive methods
Encapsulation and information hiding
Debugger techniques
Runtime exceptions
Improve Your Comp Sci Grade
Learn new tricks, review and understand the concept you are struggling with. Get computer science homework help now .