Don't let grammatical errors hurt your English grade. Team up with an expert who's fanatical about punctuation, run-on sentences and all things grammar. So that the next time you turn in a paper the grade will reflect your hard work, not the mix-up between their and there.
Sharpen Your Skills
With The Princeton Review's proofreading homework help, you can edit your essay in real-time. Sharing files in our online classroom lets the tutor and student edit the paper step-by-step, together. By using the interactive whiteboard tutors can highlight, make notes in the margin, and insert edits to help shape the paper into the grammatically accurate masterpiece it was meant to be.
Any Paper, Any Time
Our tutors are experts at proofreading across a variety of subjects. Did your chemistry teacher minor in English and make a big deal about run-on sentences? We'll proof that lab report for you. No matter what the content is, there is a tutor available 24/7 that will be a perfect match for helping you get your homework done.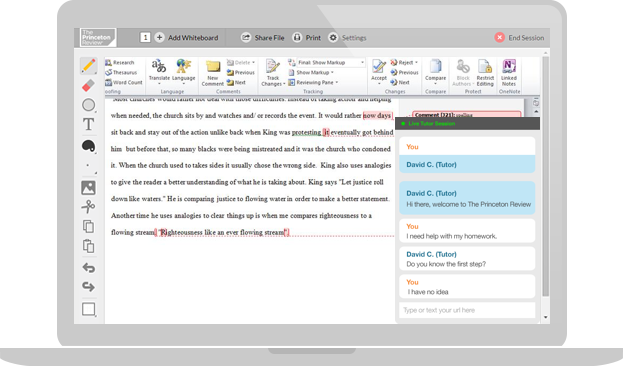 Log On Anytime, Anywhere
You pick the time and place and we'll be there, 24/7. Share a rough draft of your resume, an essay, or a scholarship application paragraph response. Our expert tutors are here to help you revise and perfect your assignment. Whether it's the middle of the day or late at night, if you're up we'll be here for you.
Get Better Grades
Don't let commas get in the way of you and a better score— get proofreading homework help now.